We are based just outside of Chicago,
Illinois. We provide paranormal
investigations in the greater
Chicagoland, Far North, West and
Southern Suburbs, as well as
Northwest Indiana and Southern
Wisconsin.

Background:

Paranormal activity is deemed as
phenomenon that exceeds what is
physically possible. There are many
ways people investigate paranormal
activity. No one has been able to
definitively prove the existence of
ghosts. What we do is gather evidence
in various means. We interview all
parties involved to gather accounts of
alleged activity. We research history of
the property to evaluate previous land
and family use. On-site we conduct an
investigation using video,
photography, digital voice recorders,
EMF, temperature, motion and sensory
ability. After we have collected all the
evidence we thoroughly evaluate each
piece to locate activity. We look to
explain each piece with rational means.
At the end of the investigation we offer
explanations for all things that can be
proven, and evidence for what can not.

Our Mission:

To provide an objective
investigation of ghostly activity
using various scientific and
non-scientific means. We will
be open minded to all evidence
and skeptical as well to insure
we accurately document any
paranormal activity.

We welcome you:

Please enjoy the research we share with you on our site. We hope you will
review the paranormal photos we have taken at various locations including
many ghostly figures and apparitions. Observe, as we have, the paranormal
activity from our investigations and outings. Take heed to the sounds we have
captured from beyond on our EVPs. Request an investigation or feel free to refer
our site to someone who needs our help. Join our team for a day to go on an
actual investigation of a haunted location using real ghost hunting equipment.
Laugh with us at our bloopers during our investigations. We will update the site
on a regular basis as we come across more evidence. Thank you for visiting!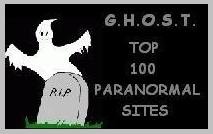 If you like our site, please click
here to vote for us.

Community causes

Veronica Jill
Blumhorst has
been missing since
September 20,
1990 in Mendota
Illinois. Click the
picture for more
details.

Click "Like" or "Send" to
follow us on facebook.

Total page views

<iframe width="414" height="235"
src="//www.youtube-nocookie.com/embed/1s7lEd
U6a4g?rel=0&autoplay=1&loop=1&playlist=1s7lEdU
6a4g" frameborder="0" allowfullscreen></iframe>

If you are looking for spirit removal or energy cleansing click the
link below.